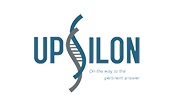 HOME
On the way to the pertinent answer.
About Us
Upsilon Bio-tech Co., Ltd. is headquartered in Colorado, the United States, with the animal blood products as the core products, including fetal bovine serum, horse serum, rabbit serum, and semi-processed (unfiltered)serum and so on. We have specialized cooperative pastures at various sites approved by United States Department of Agriculture to meet the needs of domestic and foreign customers in R&D, pharmaceutical, biotechnology and other industries. In recent years, we have gradually added biochemical reagents, laboratory consumables, cell culture media and serum-free medium which represents the future trend.

Previously, our main business was to supply OEM services for world-renowned brands of serum. With the development of business, we have become more and more aware that we should not only be satisfied with doing the services of OEM , but also establish our own brand by directly serving customers worldwide. We value the business partners of the global market, with particular emphasis on new customers in emerging markets. We not only have first-class science and technology personnel, but also have a professional business management team .So we believe that we can provide unparalleled products and services for our new and old customers in the global market.


Order today
t: 001 323 5104660
f: 001 323 5104660
1121 13th St. #187 Boulder, CO. 80302  USA